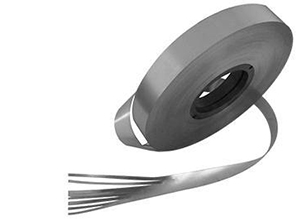 Application
Industrial frequency transformer core (50-60Hz)
IF power transformer core (400Hz-15kHz)
Switch power transformer core (below 10kHz)
Filter reactor, filtering and energy storage inductor
Power factor correction inductor core (below 50kHz)
Saturated reactor, pulse compressor core
Product size
| | | | |
| --- | --- | --- | --- |
| Grade | Width (mm) | Thickness (mm) | |
| 1K101 | 3.2~50 | 27~36 | |
We can provide custom strip materials of various specifications based on customers' needs.
Features
This amorphous alloy has high saturation magnetic induction intensity, so it uses less strip material under the same magnetic induction intensity to make its size smaller.
Fe based amorphous alloy has high magnetic permeability and low coercive force, which can improves the efficiency of transformer when being used in transformer.
This amorphous alloy has low loss, and the loss rate is only 1/3-1/5 to that of the silicon steel sheet, which can reduce the temperature rise of transformer.
The low magnetizing current can reduce the copper loss of the primary coil in the transformer.
This alloy has good stability, making it able to work below 130℃ for long time.
Physical properties
| | | | |
| --- | --- | --- | --- |
| Saturation magnetic induction intensity /Bs | 1.56T | Hardness/ Hv | 960 |
| Curie point temperature /Tc | 410℃ | Intensity/ d | 7.18g/cm3 |
| Crystallization temperature /Tx | 550℃ | Resistivity/r | 130mW-cm |
| Saturation magnetostriction efficient/ls | 27×10-6 | Continuous working temperature range | -55-130℃ |
Magnetic performance
| | | | |
| --- | --- | --- | --- |
| Product type | Transverse magnetic annealing | No magnetic annealing | Longitudinal magnetic annealing |
| Max. Magnetic permeability | >2×104 | >20×104 | >25×104 |
| Saturation induction intensity | 1.5 T | 1.5 T | 1.5 T |
| Residual magnetic induction | < 0.5 T | 0.6-1.0 T | 1.2 T |
| Coercive force | < 4A/m | < 6 A/m | < 2.5A/m |
| Loss (50Hz, 1.4T) | < 0.2W/kg | < 0.13W/kg | < 0.25W/kg |
| Loss (400Hz, 1.2T) | < 1.8W/kg | < 1.25W/kg | < 2W/kg |
| Loss (8kHz, 1.0T) | < 80W/kg | < 60W/kg | < 100W/kg |
| Iron loss rate (-55°C –125°C) | < 15% | < 15% | < 15% |
| Iron loss rate (120℃ and 200 H) | < 15% | < 15% | < 15% |
Characteristic comparison between Fe based amorphous alloy and cold rolled silicon steel
| | | |
| --- | --- | --- |
| Performance index | Fe based amorphous alloy | Silicon steel |
| Saturation magnetic induction(T) | 1.56 | 2.03 |
| Coercive force(A/m) | < 4 | < 30 |
| Max. Magnetic permeability (Gs/Os) | >25×104 | 4×104 |
| Iron loss (W/kg) | < 0.2, under 50Hz, 1.3T | 1.2, under 50Hz, 1.7T |
| Exciting power (VA/kg) | < 0.5, under 50Hz, 1.3T | < 0.83, under 50Hz, 1.7T |
| Lamination coefficient | >0.80 | 0.95 |
| Magnetostriction (×10-6) | 27 | 15 |
| Resistivity (Wm-cm) | 130 | 45 |
| Density (g/cm3) | 7.18 | 7.65 |
| Crystalline temperature (℃) | 550 | - |
| Curie temperature(℃) | 415 | 746 |
| Tensile strength(Mpa) | 1500 | 343 |
| Vickers hardness (HV) | 900 | 181 |
| Thickness (μm) | 30 | 300 |
Index
iron based alloy, alloy strip